Trainer & Instructor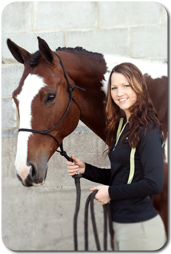 Staci's lifelong love for horses began long before she ever had the opportunity to sit on her first one. At the age of 10, Staci started taking lessons with Jennifer Collman in 2001. Since then, Staci has gained a list of accomplishments that span the gamut of equestrian sport. A jumper rider at heart, Staci's hopes and dreams live in the hunter and jumper ring. However, she has excelled in equitation, horsemanship, pleasure, dressage, eventing and more, up to a long list of wins at the regional and national level and was a member of the NCAA Intercollegiate Horse Show Association team for 2 years.
Staci has a talent for bringing out the best in all her horses, no matter what arena she's riding in.  A local representative of the rare Akhal-Teke breed, she owns a young purebred stallion, Helaveen, and rides for Shah' Zadeh Akhal-Tekes in Osakis, MN and for breeder Bradley Sherman of Dodge Center, MN.  Staci has been demonstrating the breed since she first encountered them in 2010.  She competes with Shah' Zadeh's metallic buckskin stallion, Jack, in dressage.
Her experience has ranged from starting young horses to putting on the finishing touches. She has helped to rehabilitate problem horses, further schooling in advanced competition horses, and is always furthering her own education as a trainer and teacher. With a foundation in natural horsemanship, she trains with a constant understanding of the world from the horse's point of view. Her innate ability to maximize every horse's potential makes her an asset to the training program, and allows her to help her horses and riders reach their biggest goals.
Staci's goals still lie in every major equestrian event – she is working towards a USDF Bronze Medal, and is actively persuing a career in the Grand Prix jumper world.  She also is working to improve upon her skills with young and problem horses through study of natural horsemanship. Her long list of interests and goals has made her a melting pot of different ideas and methods – her ability to find similarities between different horse worlds and apply them to her daily training has given her and her horses extreme versatility.