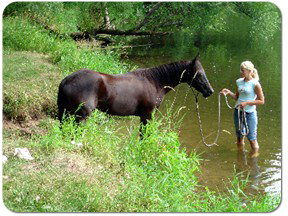 "Eclipse" – American Paint Mare
After having their gelding started here in 2006, Eclipse's owners Stan and Roxanne sent their filly as soon as she was ready. Eclipse, a 2 year old, is learning how to negotiate water for the first time.
Read her owner's testimonial here.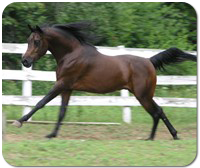 "Kamaal" – Arabian Stallion
Jennifer started Kamaal under saddle as a 5 year old. In 30 days, he could walk, trot and canter under saddle (bridled or bridleless), softly bending, and going on nice liesurely trail rides. Kamaal will continue his training after the breeding season.
Read his owner's testimonial here.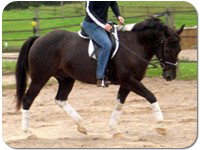 "Chico" – American Mustang Gelding
As an eventing prospect, Chico was started in dressage and over fences. Chico is competing in eventing near Mankato, MN.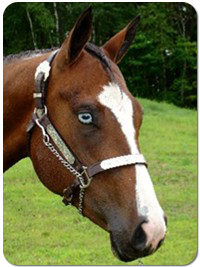 "Bella" – American Paint Mare
Bella came into training to be finished as an all-around prospect. After her training, we helped Bella find a new home with Jamie Portillo of Mequon, WI.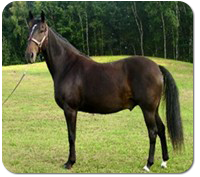 "Clyde" – American Warmblood
Clyde was pushy and disrespectful on the ground, to the point that his owner was afraid to handle or ride him. Clyde and his mom had 14 days of groundwork, and in that time Clyde graduated to a quiet, respectful, and mannerly horse for his owner to enjoy.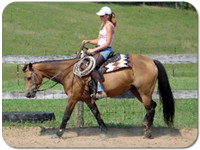 "Smoky" – American Quarter Horse Mare
After a basic start under saddle, cutting and roping-bred AQHA mare Smoky came into training to be started on cattle. With her natural ability, she was soon tracking cattle and learning how to handle the roping chute. Smoky is for sale, so if you're looking for a roping or cutting prospect, check her out on our HORSES FOR SALE page!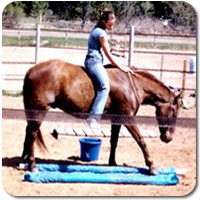 "Rocky" – Rocky Mountain Horse Gelding
Rocky's owner was frustrated with Rocky's inability to stay calm and cool on the trail. Rocky had some basic communication and confidence issues. Here is Rocky negotiating a tarp. Brideless!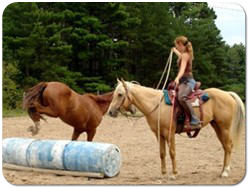 "Doc" – American Quarter Horse Gelding
Doc was purchased as a diamond in the rough who was extremely afraid and untrusting of people. He was thin, with neglected hooves and a dull, listless coat. Doc was very fearful of being touched, but we saw a lot of "try" in him. 30 days later, he would approach you in the pasture, play games with people, and began to like being handled, touched, and petted. He would pick up all 4 feet and allow you to trim them. His owner, Angie was thrilled with his progress and hopes to continue his training so that she can use him for team penning. This is Doc jumping the barrels.
Read his owner's testimonial here.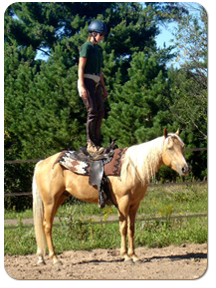 "Paco" – American Quarter Horse Gelding
Paco sent his owner to the hospital 3 times before he called Jennifer as a last resort to never riding his horse again. After 3 broken ribs and a punctured lung, he knew he needed professional help. Paco was a friendly horse, but was highly explosive and would become extremely fearful for a reason his owner couldn't quite figure out. Paco had confidence issues and needed to learn better communication skills and to trust his owner. After 30 days, this is Jennifer standing on Paco on his graduation day. Look closely – he's also not wearing a bridle!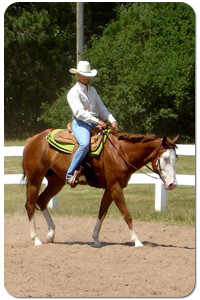 Simply The Real Thing
"Nifty" – American Quarter Horse Mare
Nifty came into training for some finishing work in western pleasure and to uncover the reasons behind the occassional buck. Her owner wanted a safe, reliable horse to enjoy on the trails and also do some showing. This is Nifty after 40 days, showing in the 4 year old and under western pleasure class at the Bit and Spur Club.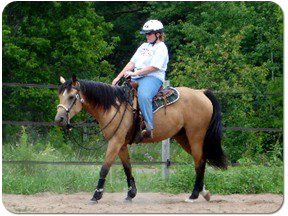 "Cougar" – American Quarter Horse Gelding
Cougar is a 3 year old who was started under saddle by Jennifer. Cougar's mom, Pam, raised him from a baby, and this is Pam riding Cougar for the first time. Cougar is destined to be a family horse and will be logging many miles on the trails with Pam this fall.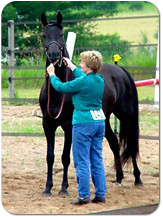 "Cole" – Morab Gelding
Cole came to Windfall farm for some finishing work in dressage. Cole advanced in his dressage training, then was shown under Jennifer to the National Level where he excelled at Sport Horse Under Saddle, Hunter Under Saddle, and Show Hack classes.
Read his owner's testimonial here.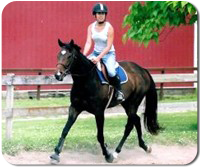 "Mya"  – Thoroughbred Mare
Mya was a rescue horse, and at 3 years old, still didn't know even the most basic ground skills. She had to be sedated for her farrier work, broke a few halters, and was very nervous about being in new places. In training with Jennifer, she learned to be confident and to trust her owner, Allie. She lifts her feet perfectly, and the farrier couldn't believe the difference. Now, she loves her job as a hunter over fences.
Read her owner's testimonial here.
"Cowboy" – Thoroughbred x American Quarter Horse Gelding
Cowboy was dubbed "Dr. Jeckyl and Mr. Hyde" when he arrived here. His owner, Tassia, told me about how he could quickly morph from calm and willing to pushy and even somewhat aggressive when he was frustrated. He was not very confident and didn't have much trust in people. Tassia learned not only how to gain his trust but to be an effective leader. This is Tassia taking a nap on his back after he returned home.
Read his owner's testimonial here.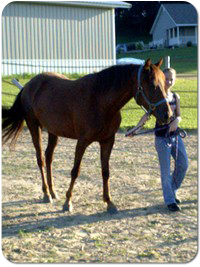 "Ellie Mae " – Morgan Mare
Ellie Mae was brought to Windfall Farm to be started under saddle. In 30 days, she learned to negotiate obstacles, walk through water, cross bridges, calmly walk through traffic, load into the trailer with ease, and more. She learned to walk, trot, and canter under saddle, and pick up the correct lead. Her owners were pretty impressed when she calmly loped around the arena while I was riding her, both of my hands over my head, holding a tarp that was flowing above her butt. What impressed them the most, though, was that their "baby" was better behaved than their other trail horse veterans when they went for a family trail ride!
Read her owner's testimonial here.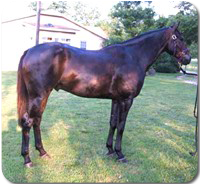 "Flicka" – American Quarter Horse Mare
Flicka came into training because she had a problem with bolting away with her rider. Knowing that she had an issue, her owner purchased her for $400. After starting training, her owner was suprised when I told her that Flicka was a highly sensitive, responsive, and very well trained horse. We later found that Flicka was a highly trained cow horse who had a very touchy "go" button! For 45 days, I re-established the training from her past and I helped her find a new home as a ranch and barrel horse for $2800.
Read her owner's testimonial here.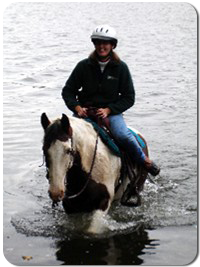 "TQ" – Spotted Saddle Horse Gelding
TQ thought that birds in trees were horse-eating gremlins, and the sound of snapping twigs were the boogie man coming to eat him alive! After establishing good communication and developing trust, His owner, Carrie, started learning how to be an effective leader. Now, he can go out with her on the trails without having a heart attack! This is TQ and his mom on the last day of training, riding through a river!
Read his owner's testimonial here.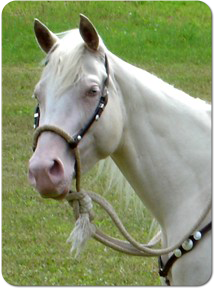 "Boo" – American Quarter Horse Mare
Boo was started under saddle as a 3 year old with Jennifer. Having a great foundation to begin with, she was able to progress quickly. Boo learned to be saddled, and walk, trot, and canter with a rider aboard. She learned to negotiate obstacles and to be a fantastic trail horse.
Read her owner's testimonial here.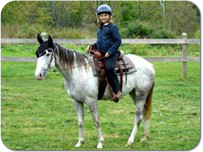 "Peanut" – American Quarter Pony Mare
Meghan was so excited to have her pony, Peanut, started in training with Jennifer after her aunt Lucy had such a great experience with the training of her young appaloosa. Peanut learned how to handle "spookies" like tarps, bridges, water, trailers, and more. Meghan learned how to ground drive Peanut and how to be a good leader. She and her aunt ride their horses on group trail rides. They love it when they get compliments on their horses' good behavior from other riders.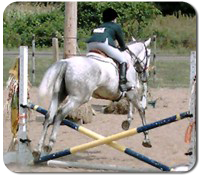 "Nick" – Thoroughbred Gelding
When Nick came into training, he had been started under saddle and knew the bare basics. In training, he learned to be more consistent, straight, and relaxed. His owner started him over fences and showed him in hunter classes. He is now reaching higher accolades at his new home in Colorado with an up-and-coming hunter rider with some very big plans for him!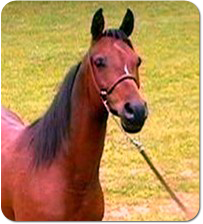 "Serene" – Arabian Mare
Serene was given to Jennifer, and at 9 years old, was labeled too old, too crazy, and too spooky to be trained. Having been abused, she was nearly impossible for anyone to catch, and wouldn't let anyone anywhere near her hind end. She shuddered when she was touched and was horribly afraid of just about everything. After training, she could stand for saddling and could walk and trot confidently under saddle. She developed a whole new attitude and became a safe horse to handle. She now resides at a stable in Pennsylvania, with a new career as a lesson horse!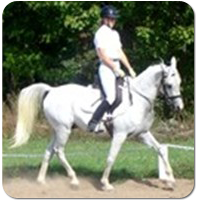 "Steel" – Grade Gelding
This gelding came to Jennifer's hands as an 11 year old gelding, horribly abused, neglected, terrified, and even just leading him was nearly impossible. When he was young, his owner tried to break him in. After becoming frustrated, he tied him to a tree in the front yard and beat him with a 2 x 4 to "teach him a lesson". Luckily, someone saw what he was doing and threatened to call the police. Furious, he tied him in a cattle stantion in a dark barn and left him there to starve to death. He was 400 pounds of skin and bone when he was removed from the barn and rescued. Because of his deep-set trust issues, his new owner donated him to Jennifer. 2 years later, her sister Diana is riding and showing him in dressage.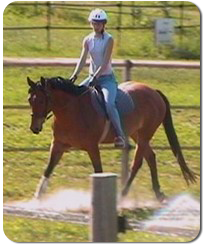 "Pride" – American Quarter Horse Mare
At a sale barn, not more than a few feet from the "kill barn", Jennifer found the "diamond in the rough" she was looking for. She was kind and calm, and was a lovely mover. She was started her under saddle, a quick learner and took home blue ribbons her first time out. When a good friend called looking for the "perfect horse", Jennifer instantly thought of Pride. She lives with her new mom in Anchorage, Alaska. Pride and Gayle take natural horsemanship and dressage lessons together.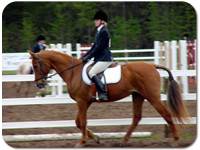 "Blue" – National Show Horse Mare
Blue was used as a trail horse until a bowed tendon made it necessary for her to find a new job. She came into training to learn to relax and take things a little more slowly. Blue was shown in hunter under saddle and is now owned by a family in St. Paul, MN. The family's 3 children take dressage lessons with Blue.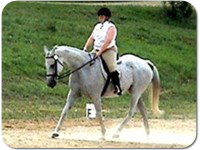 "Hazel" – Thoroughbred Mare
Hazel was a successful racehorse and after retirement, had a career as a broodmare. However, as she got older, she developed complications and could not longer deliver foals. At 14 years old, Hazel was brought into trianing to be started under saddle as a riding horse. Her new mom, Ashley, rides her in pony club and they compete in dressage and jumping.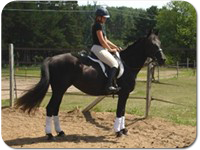 "Shiloh" – Friesian X Thoroughbred Mare
Shiloh was 4 years old when she came into training and had been to other trainers prior to her arrival. She was so terrified of people that she would actually get physically sick while in training and was so timid that she would dribble urine when asked to perform even the simplest of tasks. Her prior trainers had little to no success with her, and she had become quite accomplished at throwing riders. It took a while, but 90 days later, her owner was able to ride her on a loose rein. Shiloh became confident and trusting, calm, and willing. Today, she is used for competitive trail riding.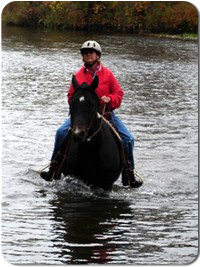 "Sam" – American Quarter Horse Gelding
Sam loves his mom, but HATED water! This became a frustrating problem when she would take him on the trails. This is Sam now with his mom, Lynn, riding in the Red Cedar River on his "graduation day".