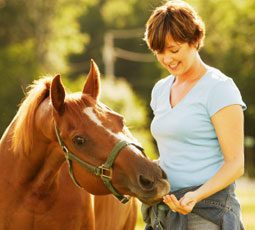 Leasing a Horse provides you with an opportunity to have access to a horse on set days of the week. During your scheduled lease times, you can groom, ride and care for the horse as if it were your own.
A lease gives you a chance to hang out at the stable, get to know the other riders and get some much needed riding time in without the restrictions of formal lessons.  You will have the ability to practice what you've been working on in lessons, or just ride for fun with your friends at the barn.
A partial lease allows you access to a horse on set days of the week.  Most of the lesson horses at the stable are available for partial lease, starting as low as $75 per month for one day per week or a full lease of $350 per month for access to your horse 5 days a week.
If you're interested in purchasing a horse in the future, leasing may be a great way to take it on trial, without the worries of veterinary care and other expenses that go along with owning a horse.
Lease prices do not include lessons, and lessons must be purchased seperately.  Riders under the age of 18 need to have an adult present duing lease times.  Tack and other equipment is not included in the lease, although you are always welcome to use the stable's equipment when it is available, provided that it is handled with care and stored properly after use.  1-4 day leases need to be scheduled in advance, full leases do not.  Full leases are at the lessor's discretion and do not need to be scheduled.  Lessors may not ride the horses off the property without written permission from the horse's owner.  Changes in lease times must be issued in writing, 30 days in advance, to the horse's owner.
1 day/week………………………………$75
2 days/week…………………………….$120
3 days/week…………………………….$175
4 days/week…………………………….$220
Full Lease – 5 days/week…………….$350
Kandy's Katmai

1998 American Pinto Pony
Gelding
13.1 hh

Permanent Height Card
USEF Recorded
Eligible Green
Solid First Level Dressage
Coursing easily 2'6″
Lots of Show Experience
Parelli Level 4

HPB Kadenzia2004 Hungarian Warmblood Mare
15.2 hh

USEF Recorded
Eligible 1st Year Green
Showing 2'6″-2'9″
Schooling 3'0″-3'3″
Honest Jumper
Solid First Level Dressage
Parelli Level 4

Waitin On Joe 2000 American Paint Gelding
15.0 hh

Solid Second Level Dressage
Schooling Third Level Dressage
Honest Trail Horse with Lots of Miles
Solid Western Performance Horse
Parelli Level 4
Lots of Show Experience

Magic Moment 1996 American Warmblood Mare
16.3 hh

Solid 1st Level Dressage
Showing 2'3″
Schooling 2'6″
Trustworthy Trail Horse
Easy and Fun to Ride
Very Beginner Friendly
Excellent Manners