Trainer, Instructor & Clinician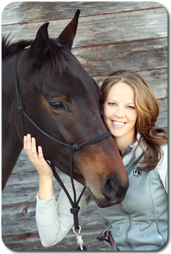 A highly experienced trainer and expert equine behaviorist, Jennifer Collman's extensive background includes starting young horses, advancing competition horses, and rehabilitating horses exhibiting problems ranging from simple disobediences to extreme vices and behavioral issues. Specializing in equine behavior and psychology, Jennifer unravels problem behaviors and corrects them using resistance-free, natural horsemanship methods with quick, profound and lasting results.
Jennifer's higher education as a rider began in studying with Les Wagschal, a classically trained master of equestrian art and apprentice to Mr. George Wahl, chief trainer of the Spanish Riding School in Vienna. Jennifer has also studied with FEI dressage riders and trainers including Kristi Wysocki, a USDF "R" judge, Janet Harms, assistant trainer to Betsy Steiner, head dressage instructor at the University of Findlay, and the head coach for the Intercollegiate Dressage Association (IDA) team, and Erin Brinkman, a USDF Gold Medalist. Over fences, Jennifer's training was with Greg Best (1988 Seoul Olympic Silver Medalist) apprentice Danielle Turner and hunter seat equitation coach Darla Gentry. Her philosophies and methodologies of horse training are directly influenced by the teachings of masters of both classical and natural horsemanship, including Nuno Olivera, Francois Robichon de La Gueriniere, Tom Dorrance, Ray Hunt and Pat Parelli.
In the show arena, Jennifer's abilities have taken her horses, students and herself to numerous state, regional and national accolades in Dressage, Hunter Under Saddle, Equitation, Hunter Over Fences, Western Pleasure, Halter, Showmanship, Sport Horse in Hand and Sport Horse Under Saddle. Among these are multiple National Championships, 1998 USDF Jr./Young Rider of the Year, AHSA Valley Circuit Open Training Level Champion, Alaska Horsemen's Association Hunter Over Fences Open Champion and Alaska Horsemen's Association Horse of the Year. Jennifer was a teacher's assistant at the University of Wisconsin – River Falls for 3 years with Eventing competitor, Pony Club "A" rider and equine veterinarian Dr. Peter Rayne. Jennifer also was a competitor and member of the NCAA Intercollegiate Horse Show Association and showed with the UW-River Falls Intercollegiate Equestrian Team in hunter seat equitation and equitation over fences for two years.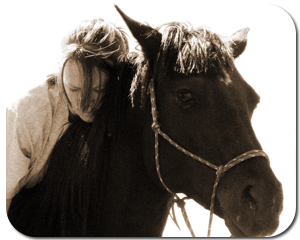 Jennifer has now produced over 800 confident, willing, and respectful horses, many of which have achieved many regional and national accolades in everything from western pleasure and hunter under saddle to dressage and hunter over fences. Her experience spans the gamut of breeds and disciplines, having trained and shown warmbloods, drafts, ponies, off-the-track thoroughbreds, quarter horses, arabians, paints and more in a variety of disciplines. As an instructor, Jennifer focuses on developing good horsemanship in all of her students, teaching safety, horse behavior, and the basics of stable management. Lessons have a strong emphasis on correct basics and riding mechanics and her goal-oriented teaching style caters to children as well as adults. Gaining recognition as an expert in her field, Jennifer attracts instant attention from recreational and competition riders alike and has been conducting clinics and seminars throughout the Midwest and Alaska since 1998.